The second International Youth Forum of Soil and Water Conservation (2nd IYFSWC) with the title of Climate Change Impacts on Sediment Dynamics: Measurement, Modelling and Management was held in beautiful Moscow successfully during August 26-31.
A corner of forum
This forum was sponsored by WASWAC, and organized by the Lomonosov Moscow State University (MSU). It is the second session following the first session held in Nanchang in October 2015. It is worldwide forum focuses on the youth who are contributed in the soil and water conservation. Totally 137 participants from 14 countries including China, Iran, Morocco, Russia, Austria, Egypt, Italy, Nigeria, Serbia, Belgium, Germany, Japan, Poland and Ukraine have attended this forum.
Erosion, sediment delivery and sediment transport are natural geological processes that influence the form and function of terrestrial and aquatic systems. These processes are central to landscape and soil development, geochemical cycling, material fluxes and river channel morphology across the globe. In addition, they strongly influence water quality and ecosystems of the world's rivers and oceans. A wide range of natural (i.e. wildfire) and anthropogenic (harvesting, agriculture, urbanization) disturbances alter the rates and magnitudes of erosion and related sediment dynamics which can have significant economic and social implications. While several important changes to the earth's surface have resulted from socio-economic (i.e. population growth. Land change, resource extraction) factors, there is increasing concern for the potential importance of climate change as a driver of future changes in erosion and sediment dynamics and the wide range impacts thereof. This forum specifically addresses the issue of climate change and its impact on erosion and sediment dynamics with special emphasis on its implications for measurement, modelling and management of sediment in a changing world.
Dr Sergey Chalov, the deputy dean for international affairs of Faculty of Geography in MSU was hosted the opening ceremony and gave a warm welcome for all participants.
Prof. Li Rui, the president of WASWAC, Prof. Ning Duihu, the Secretary-general of WASWAC, Prof. Sergey Dobrolyubov, the dean of Faculty of Geography in MSU, and the corresponding member of RAS, Prof. Nikolay Kasimov, the president of Faculty of Geography in MSU, and the Academician of RAS, Prof. Kazimierz Banasik, the vice-president of ICCE, and Prof. Paolo Porto, the ICCE Secretary, attended this opening ceremony and gave speeches.
In President Li Rui's speech, a brief introduction on the forum was provided, a heartful welcome was delivered, an earnest expectation for the young generation was expressed, and a good wish for the forum was given.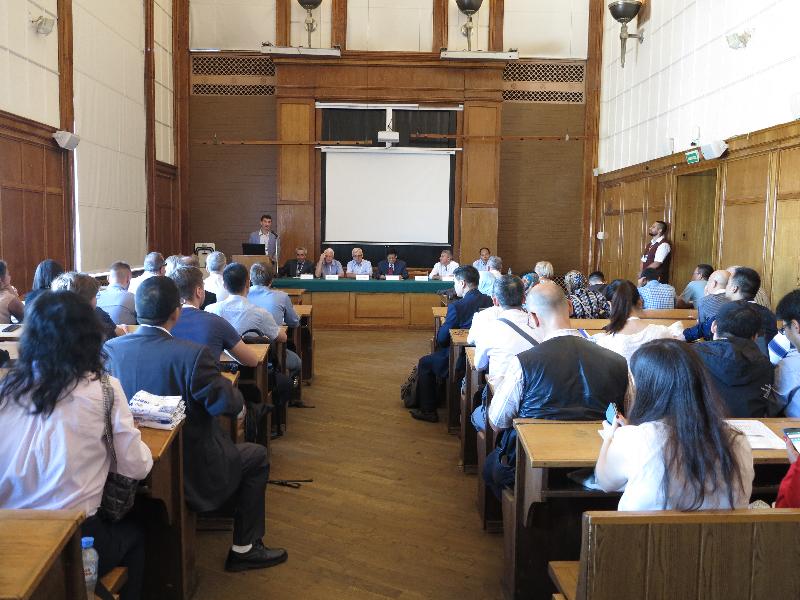 The opening ceremony
During the forum, 6 outstanding scholars provided all participants a very high-level academic keynote presentation. The 6 keynote speakers are:
1.Prof. Jean Poesen, from the devision of Geography and Toruism within the Department of Earth and Environmental Sciences, KU Leuven, Belgium;
2.Dr Peter Strauss, the head of the institute for Land and Water Management Research within the Federal Agency for Water Management.
3.Prof. Helmut Habersack, the UNESCO Chair on Integrated River Research and Management, from Hydraulic Engineering and Modelling at the Department of Water, Atmosphere and Environment at the University of Natural Resources and Life Science, Vienna, Austria.
4.Prof. Valentin Golosov, from Laboratory of Soil Erosion and Fluvial Process, Faculty of Geography in MSU.
5.Prof. Lei Tingwu, from the China Agricultural University, one of the Editor-in-Chief for WASWAC official journal - International Soil and Water Conservation Research.
6.Prof. Miodrag Zlatic, the former president of WASWAC, and a full professor at Faculty of Forestry, Belgrade University, Serbia.
For the young participants, to provide a full platform for them to communicate, to express, and to discuss what researches they have been involved, up to 74 oral presentations and 57 poster presentations have been arranged in 5 oral rooms and 1 exhibition hall during this forum. All participants got the chance to share their research with others.
To make all participants clear about the achievement in soil erosion control and water resources protection, the scientific tour was arranged on August 30. This tour including two sites visiting.
The field tour
The first one is a different types of soil erosion (sheet, rill, ephemeral gully etc.) observation in the cultivated lands in this part of the Central Russia. Erosion processes are observed during spring snow-melting in the end of March – beginning of April and after heavy rain-storms during warm part of year (May – September). Results of long-term monitoring of soil erosion, quantitative assessment of the soil erosion rates and consequences of the cultivated land reduction have been discussed during the field excursion.
The second one is the Moscow water supply system. A canal constructed almost 80 years ago for Moskva-Volga has now became the biggest artificial waterway in Russia, linking Moscow to the Volga River at Ivankovo, north of Moscow. Participants have learned a lot about the water supply system and the protection for the water sources locations.
As an extra welfare, a training course Water-related natural hazards: measurement and modeling has been provided during this forum. It included 7-session lectures, seminars, as well as workshops. The topics are mainly about the following aspects:
1.How can we measure erosion at plot scale, field scale and small watershed scale, what are the challenges for these different scales of measurement and which types of equipment exist
2.Ecomag: catchment scale streamflow assessment for world's large rivers
3.Soils of the world
4.Digital modeling of erosion soil cover patterns
5.Quantitative assessment of soil and gully erosion rates
6.Social economical factors of soil and water conservation in the different landscape zones
7.Bed load measurements techniques in river monitoring
Participants for this course has got the official internationally recognized diploma of Moscow State University (1 ECTS point), which was issued in the closing ceremony of the forum.
As one of the important content, the WASWAC outstanding Youth Paper Award was released in the closing ceremony. Total 10 paper were evaluated from submitted manuscripts to receive this award. Each first author for the ten papers has received 1000 USD honorarium and certificate. As the sponsor of this award, Beijing DATUM Technology Development CO.,LTD has dispatched staffs to attend this forum. The award issue ceremony was tightly following the introduction proposed by DATUM.
The group photo for some participants
The sponsors for this forum include WASWAC and MSU. The Co-organizers include China Society of Soil and Water Conservation (CSSWC), International Research and Training Center on Erosion and Sedimentation (IRTCES), The International Commission on Continental Erosion (ICCE), The International Association of Hydrological Sciences (IAHS), V.V. Dokuchaev Soil Science Institute, and the UNESCO Chair at the University of Natural Resources and Life Sciences. Thanks for the everything under their strong support!
(Source: WASWAC: www.waswac.org/)