On 5 August, 2021, Prof. Shahbaz Khan, Director of UNESCO Beijing Office visited China Institute of Water Resources and Hydropower Research (IWHR) and met with Prof. KUANG Shangfu, President of IWHR as well as his team, to discuss the future cooperation between UNESCO and IWHR.
Prof. Khan appreciated the contribution of IWHR in the field of water development in China and the world. He emphasized that UNESCO Beijing Office, as a cluster office with five units: Education, Culture, Natural Sciences, Social and Human Sciences, and Communication & Information, will strengthen the cross-disciplinary cooperation and popularization of water science and education with IWHR, enrich and improve the international sediment research platform, enhance the impact of IWHR's affiliated Category II Centre's influence, and explore opportunities of international water culture exchange.
Prof. Kuang expressed his congratulations to Prof. Khan on his appointment as Director of UNESCO Beijing Office in March this year and welcomed his team. He recalled the cooperation between Prof. Khan and IWHR in previous activities, introduced the operation of UNESCO Category II Centre (International Research and Training Centre on Erosion and Sedimentation), and put forward ideas on strengthening international water science education, increasing the influence of UNESCO Category II Centre, and expanding international water culture exchange.
UNESCO Beijing Office and IWHR also discussed in depth about topics including the achievements of China's water ecological civilization, medium and long-term water science education, and promoting the water community of shared future.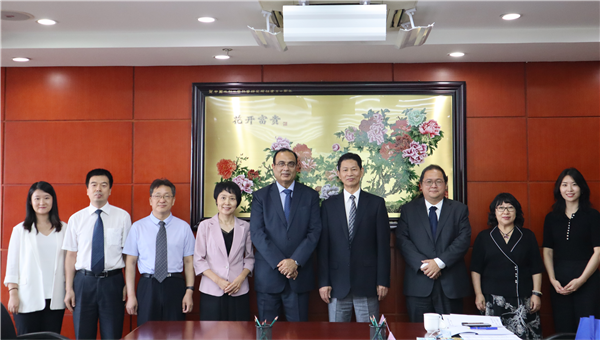 2021年8月5日,联合国教科文组织驻华代表处代表夏泽翰教授访问中国水利水电科学研究院(IWHR),同中国水利水电科学研究院院长匡尚富举行会谈。双方针对联合国教科文组织与中国水利水电科学研究院的未来合作进行讨论。
夏泽翰教授赞赏中国水利水电科学研究院在中国乃至全球水发展领域做出的贡献。他强调,联合国教科文组织驻华代表处作为一个同时拥有教育、文化、自然科学、社会和人文科学,以及信息素养五大部门的代表处,将全力加强与中国水利水电科学研究院在水科学与教育的跨界衔接和普及、丰富完善国际泥沙研究平台建设、进一步提升中国水利水电科学研究院挂靠二类中心影响力,探索国际水文化交流。
匡尚富院长对夏泽翰教授于今年3月份正式就任联合国教科文组织驻华代表表示衷心祝贺,对代表团一行的来访表示欢迎。他回顾了夏泽翰教授与中国水利水电科学研究院在此前一系列活动中的合作,介绍了联合国教科文组织二类中心(国际泥沙研究培训中心)的运行情况,就加强国际水科普教育、扩大联合国教科文组织二类中心影响力、拓展国际水文化合作交流等方面提出了未来合作设想。
会议双方还就中国水生态文明建设取得的成就及对外宣传、中长期水科普教育、推进水命运共同体等方面进行了深入探讨。
(Source: UNESCO Beijing Office)