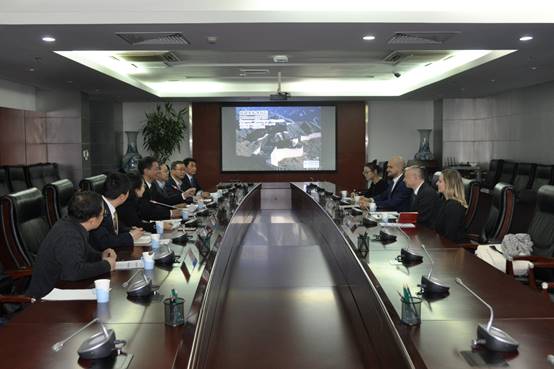 On December 12, 2017, International Hydropower Association (IHA) CEO Richard Taylor and his two colleagues visited IWHR, greeted by IWHR President Kuang Shangfu and talked on the previous and next World Hydropower Congress to be held in Paris in 2019.
Dr. Kuang warmly welcomed the CEO on his third visit of this year, and thanked him for IHA's long-time support to IWHR. He said the successful 6th World Hydropower Congress in Addis Ababa, Ethiopia this year is a great boost to the sustainable hydropower development in the African continent, laying out a guideline for its hydropower development and operation in the coming decade. Dr. Kuang reaffirmed that, through the IHA China Office hosted at the institute, IWHR will fully support the 7th World Hydropower Congress in 2019. He also invited Mr. Taylor and his colleagues to visit IWHR again next year.
Mr. Taylor appreciated IWHR's great hospitality. He briefed the meeting on IHA's achievement this year, and thanked IWHR for its support and contributions. He said he looked forward to the profound cooperation with IWHR and the International Research and Training Center on Erosion and Sedimentation (IRTCES), in order to share the advanced Chinese technologies and experience.
Approaches and contents of future cooperation were also discussed between the two sides.
Dr. Liu Cheng, Deputy Division Chief of IRTCES, participated in the meeting and made a presentation introducing the activities of IRTCES and UNESCO's International Sediment Initiative (ISI).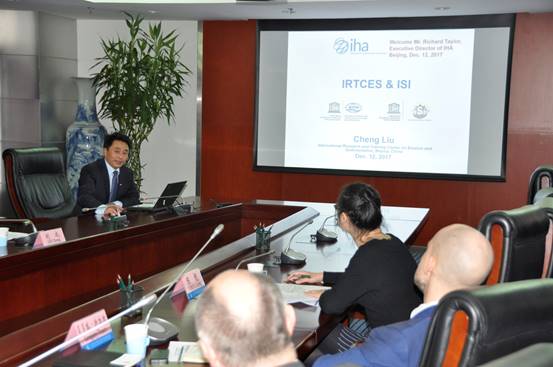 On December 15, 2017, Mr. Richard Taylor, Mr. Gregory Tracz, Chief Development Officer of IHA, and Ms. Chen Liang, Liaison Officer of IHA China Office, visited IRTCES. Prof. Wang Yangui, Prof. Liu Cheng, Prof. Chen Yuehong, Dr. Du Pengfei and Dr. Qu Liqin from the IRTCES had a meeting with them.
Prof. Wang, Division Chief of IRTCES, welcomed Mr. Taylor and his colleagues on behalf of the Directors of IRTCES.
Mr. Taylor introduced the IHA and its activities. He mentioned that the IHA was created in 1995 under the auspices of UNESCO's International Hydrological Programme (IHP). He also briefed the seventh World Hydropower Congress to be hosted in partnership with UNESCO's IHP in Paris between 14 and 16 May 2019, and he looked forward to the cooperation with IRTCES and ISI on the congress and other activities. Recent discussion with UNESCO on a session of 'sediment management' co-sponsored by ISI was informed.
In the meeting, Prof. Liu, Prof. Chen, Dr. Du and Dr. Qu introduced ISI and the World Association for Sedimentation and Erosion Research (WASER), the International Journal of Sediment Research (IJSR), the World Association of Soil and Water Conservation (WASWC), and the journal of International Soil and Water Conservation Research (ISWCR), respectively.
Both sides discussed future collaborations on the World Hydropower Congress, case studies of reservoir sedimentation, training workshops, publications and other possible cooperative activities.