Sediment Management is an essential element of River Basin Management Plans. Sediment is an essential, integral and dynamic part of our river basins. Where human activities interfere with sediment quantity or quality, sediment management becomes necessary.
SedNet aims at providing scientific and user oriented input into the WFD implementation phase and organised its third Round Table in cooperation with the International Commission for the Protection of the Danube River and the International Commission for the Protection of the Elbe River.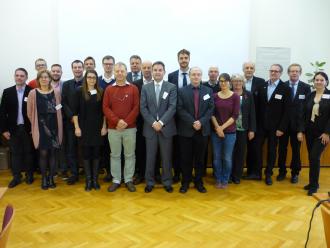 The Round Table Discussion was organised on 8-9 November at Budapest University. About 20 experts from miscellaneous river basins attended.
The objective of this event was to provide a platform for exchanging experiences between both Danube and Elbe river basins to derive generic and specific recommendations for sediment management based on experiences in selected key river basins taking into account legal requirements, needs of users and scientific advice. The discussion was specifically focused on methodological approaches of designing and implementing a sediment management concept. Representatives from other European river basins where similar activities on sediment management have taken place were invited to take part. Until a few years ago, sediment related quantity and quality issues have played a relatively minor role in the Common Implementation Strategy (CIS) process. Such Round Tables are an opportunity for sediment management experts to exchange experiences on the integration of sediment management in river basin management. Central to the EU WFD are River Basin Management Plans, which were published for the first time in 2009.
A report on the outcome of the Round Table will be published in 2017.
For the reports of previous SedNet Round Table Discussions (2006 and 2009) see www.sednet.org.

(Source: SedNet, http://sednet.org/)